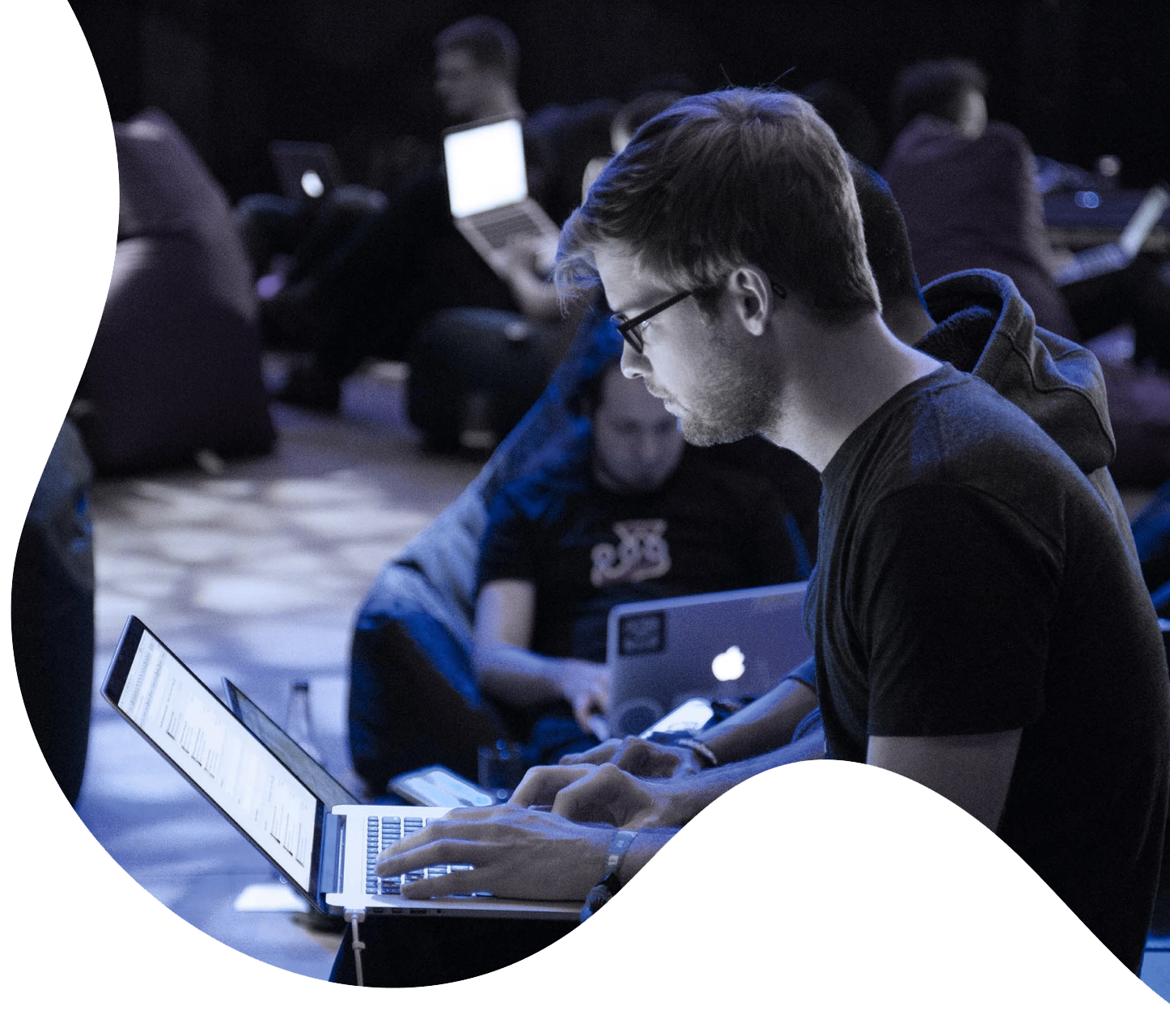 Create value through responsible work!
Come and do tasks like our full-time colleagues, with flexible hours and serious responsibility. If you're not just keen to 'finish' your internship, but want to learn and take on responsibility, we're the place for you.
It's easy to go from trainee to employee here.
We also put a lot of trust in our trainees, giving them the opportunity to do responsible work.
We know that you put your studies first, so you have the flexibility to work as much as you want. The quality and quantity of work done is more important to us than the number of hours worked.
In the traineeship program, you will not only be involved in the tasks of your chosen field, but depending on your job, you may also work with other teams to learn about other fields and develop cross-sectoral working relationships.
We welcome students interested in IT who want competitive benefits, relevant practical knowledge and career opportunities at Hungary's largest IT service provider. Additional requirements:
Active student status
Interest in the multinational IT services sector
Advanced English or German language skills (depending on the position applied for)
Ability to work at least 20 hours per week as an intern (individual schedules are flexible and they take into account exam periods, summer period, etc.)
We also help the trainees who work at DT-ITS but are still in higher education to complete their compulsory university internships. This requires that you have been employed for at least 6 months.
We use the latest technologies in our work, so you're sure to find a suitable topic for your thesis and colleagues who can mentor you in writing it.
Our university collaborations
Deutsche Telekom IT Solutions has been a professional partner of many higher education institutions and technical colleges for many years. By taking an active role in the development of education, we have created an ecosystem of mutual benefit, where we run value adding programmes with educational institutions and students.
We run a range of practical courses in our outsourced departments, participate in higher education dual programmes, run talent programmes, create community spaces and run professional forums around the latest technologies.
Corvinus University of Budapest
We've been working with Corvinus University of Budapest since 2018, and our aim is to expand opportunities for students by partnering with one of Hungary's best-known and globally prestigious institutions.
We host guest lectures on project management at the university. In addition to IT, we have a number of functions within the company, which we also provide training on. The collaboration also includes the creation of a modern community space in 2021.
Óbuda University
Óbuda University is our company's first professional partner in Budapest. We signed a strategic agreement with the university in 2018, established a department in 2021 and run a talent program from 2022. We are jointly involved in innovation projects, including the renovation of the entire wifi network of the main building in 2020.
We organise meet-ups for students on various future skills, and we teach several courses and host guest lectures where students can learn about the processes and skills needed for positions in the company.
Currently, our available programs are on DevOps and Big Data, with plans to launch a course on AI.
University of Debrecen
The University of Debrecen is our company's earliest cooperation partner, we announced the agreement on the establishment of the Outsourced Department in January 2011.
The main objectives of the department are to improve the quality of education for students of computer engineering, computer programming and business informatics, as well as to develop the basic competences required for practical training.
In January 2018, thanks to a tripartite agreement between the University, the City of Debrecen and Deutsche Telekom IT Solutions, our cooperation has been given an even more effective institutional framework.
For years, we have been successfully working with the Faculty of Informatics to create even higher quality education by developing electives and running talent programmes. From 2022, the students of the university can apply for our E-lit scholarship programme, and we also organise guest lectures and regularly attend professional days.
University of Pécs
The DT-ITS cooperation with the University of Pécs started in 2012, but in 2013 it has been extended to all language or IT education courses (Faculty of Engineering and Information Technology, Faculty of Humanities – German, Faculty of Economics, Faculty of Sciences).
In 2013 we signed a long-term cooperation agreement with the University of Pécs and the Local Government of Pécs. The aim of our cooperation was to improve university education and to launch several joint education and research projects. In the framework of these projects, our company continuously offers students internships and several traineeships. We are also actively involved in the training of university lecturers and in student research. As part of the university agreement, we also regularly support a number of university events. In 2016, we started an external department at the Faculty of Engineering and Information Technology of the University of Pécs, where our colleagues teach in the fields of networks, Cloud, ITIL and PM. We also participate in the dual programme. Since 2019, students can also apply for our E-lit scholarship programme, and we collaborate with the KTK on occasional projects, where we have also created a community space as part of our cooperation.
University of Szeged
Since 2017, we have been collaborating with the University of Szeged on various projects and events, organizing hackathons and competitions.
Since 2019, we also offer a dedicated course at the Institute of German Studies, teaching basic IT skills and providing internship opportunities for interested students. From 2022, students can apply for the E-lit scholarship programme.
Apply for our scholarship program, take a degree course, gain practical experience, plus a HUF 1 million scholarship, all at the same time!
There's no doubt where you'll start your career after graduating because we're offering you a full-time job with the largest IT service provider in Hungary.
If you are accepted, you will join our scholarship programme and start working for us through a school organization at a competitive hourly pay rate. During your internship you will gain marketable, practical skills related to the IT services sector.
The availability of the program depends on the actual open positions.
Application requirements for the E-LIT program
Active student status
Interest in the multinational IT services sector
Advanced knowledge of English or German (language level required for the internship position applied for)
Commitment to work at least 20 hours per week as an intern (individual schedule is flexible, taking into account exam periods, summer period, etc.)
Commitment to complete the BSC diploma within 8 semesters (individual cases e.g. Erasmus programme participation etc. are subject to individual assessment)
If we select you, you are then entered into our scholarship programme and you begin working with us through an educational organization, receiving a competitive hourly pay rate. From this time, Deutsche Telekom IT Solutions transfers to your account at the beginning of every semester the HUF 1 million scholarship, divided into payments as follows:
On entering 150 000 HUF
1st semester 150 000 HUF
2nd semester 150 000 HUF
3rd semester 150 000 Ft
4th semester 400 000 Ft
The final sum is paid once the diploma is issued. If you manage to complete your degree course in seven semesters, the third and fourth payments are combined.
During your traineeship, you will acquire marketable, practice experience of relevance to the IT service sector. In a trainee position, we provide you with a competitive hourly pay rate, professional development and a mentor. The course's compulsory professional work experience can be done within the framework of the programme. Furthermore, during the traineeship you have the chance to improve your German language skills within both the university and the company structure.
Upon graduation from BSC, DT-ITS may offer you a full-time position.
The selection procedure
The applications received will be shortlisted and, if they meet the requirements, a short personal interview will take place.
About the loyalty period
There is a loyalty period for the duration of the programme, and after graduation, if DT-ITS offers you a full-time job, you will be asked to sign a loyalty contract with your employment contract, with a maximum duration of 1.5 years. In case you wish to leave before then, you can do so with a pro rata repayment of the scholarship.
About positions, career opportunities
DT-ITS has a very broad portfolio of services, allowing both students with a background in IT and students interested in the sector but with other backgrounds (e.g. economics) to find the right opportunity for them and to earn a secure income and build a real career. Plan your career ahead, we support You!
Please send your questions here: FMB-TS-ITSH-HR@t-systems.com
Are you interested in us?
Check out our open positions!